Full Service Legal Suite Near the Downtown Courts
A custom designed remote office minutes away from the District, Bankruptcy, and Chancery courts. 
Individual Offices
Witness Prep Rooms
Full Dining Area 
Catering
Equipment Rentals
& More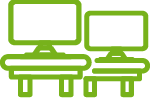 Legal Suite
Are you looking for a custom designed workspace located across the street from court for your upcoming trial? Look no further!
District, Bankruptcy and Chancery courts are only steps away (see map). Our trial suite was designed specifically to operate as a remote office. The suite offers all necessary amenities, a private entrance, security and secure WiFi. The space is ideal for witness and hot seat prep, depositions, arbitrations, CLEs or any type of meeting.
 Full-Service Suite includes all of the following:
Flexible floor plan and layout
Individual attorney offices and breakout rooms
Full refrigerator, coffee & lunch / dinner area
Private entrance & in-suite bathroom
Hotel coordination, shuttle and security escort service
Concierge catering plan with local restaurants
Equipment rentals - monitors, docking stations, laptops, library carts and rolling shelves, etc.
Special needs? Bet we already have it.  If not, we're always happy to accommodate last minute requests of any kind.
On-site Technology Resources – Customly designed with everything necessary for running a trial
Private network and access
60" smart TV's with cable
Polycom video conferencing
Hot seat/trial presentation available
Apple TV's for exhibit casting
Fast & secure redundant internet
IT technical support available
Need exhibit printing and binders for court?  That's our specialty.  Our Production Center is located right upstairs and available 24 hours.  DLS's experienced team can print, QC, assemble and deliver your exhibits, witness binders, lunches or any special requests directly to court as needed.  
Our Trial Suite is the best location, includes all the amenities and is the only total solution for hosting a trial in Delaware.  For more information and to check our scheduling calendar, contact one of our Trial Support Coordinators at [email protected].
Rely on our Trial Support Coordinators to make the arrangements, so you don't have to! 
Production & Trial Facility
eDiscovery & Review Center
1007 N. Orange Street
Suite 510
Wilmington, DE 19801